Welcome to RFShop (UK) Website.  Please click here or on red search button above to browse all our products.
North American Customers
Delivery to Canada and the USA is generally trouble free. Fedex and UPS offer a reliable service with delivery times typically less than a week. We include itemised HS codes which allow for 0% tariff for most of our products. Orders of less than $800 are generally waved through.
EU Customers
We are now working with a sister company rfdenda.com which is located in the Basque region of Spain.
Other Overseas Customers
We also work with rfshop.com.au which is located in Adelaide, Australia. We can advise on shipment to any location.
Manufactured RF Coaxial Cable Assemblies.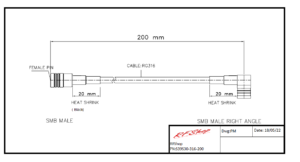 Contact us for a quote on cable assemblies to suit your requirements. We use standard connectors (N, Microdot, SMA, TNC, Conventional and reverse etc) , standard and low loss cable such as RG58, RG178, RG316, RG402, RG405, RG142, LMR195, RG393, RG142 etc. (See our menu for a full list of products.)
Capabilities include High Voltage Connectors and Cables, such as SHV, MHV, 10kV, 20kV and also semi flex and semi rigid cables.
Connectors,  cable and other components held in stock will be usually be dispatched, either by first class post or 1-2 day (for UK) courier,  the same working day if ordered before 1 pm. Small quantity orders for manufactured cables, using components which are in stock,  will typically be 2-4 days.  Larger quantities, at a lower price, will take longer depending on order size and component availability.
If the stock quantity shown on a standard product is insufficient for your order let us know and we can increase the number to suit. We often make them ourselves in any case so it likely will just a matter of waiting a couple of extra days for the delivery.
Categories:
Featured Products